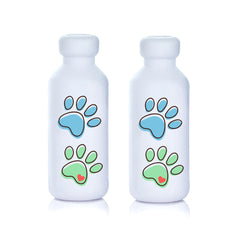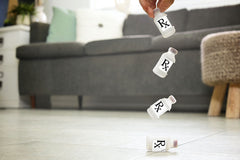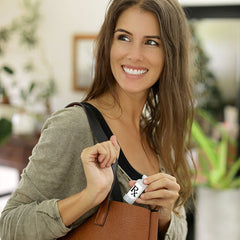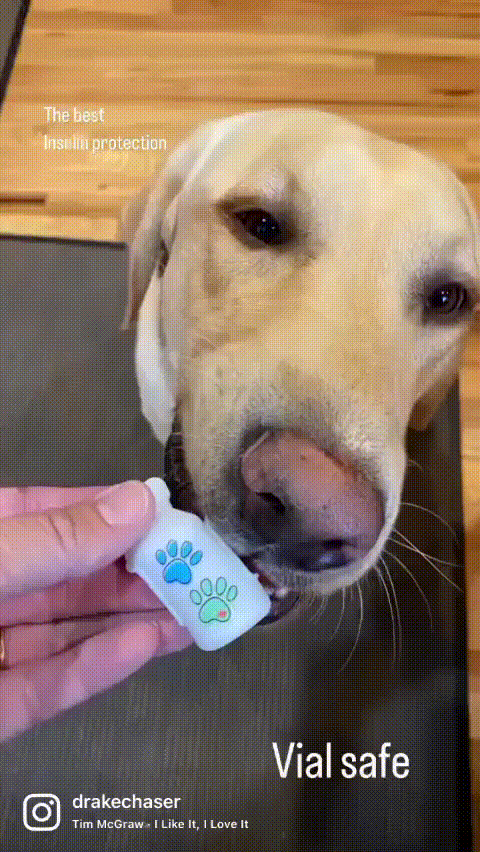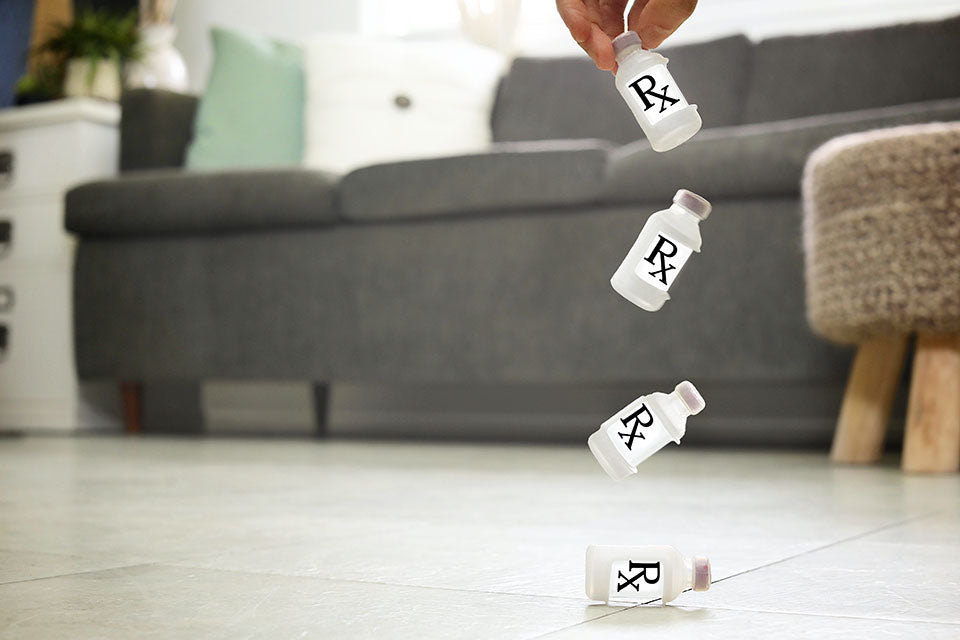 Paw Print 2-Pack Insulin Vial Protector Case (Fits Lantus, Apidra or Admelog)
Out of stock
Spend $19 or more for free shipping!
Never worry about broken insulin bottles again! 
Vial Safe is a super-durable, hypo-allergenic, reusable silicone protective sleeve that provides a secure grip and protects your insulin vials against accidental drops. 
This size Vial Safe is designed to perfectly fit all 10mL vials of Lantus, Apidra or Admelog.
Why VIal Safe?
✓ PEACE OF MIND: Provides a secure grip so you are less likely to drop a vial, but also protects vials if they do accidentally drop by bouncing instead of shattering… saving you the cost, insurance nightmare and heartache cause by a broken insulin vial.
✓ COMPLETE PROTECTION: Protects entire vial, top to bottom and stays on even during needle insertion.
✓ GENIUS DESIGN: Easy on/easy off with a window in front allowing insulin brand label visibility and vial contents visibility at all times.
✓ CONVENIENT: Super lightweight and perfect for travel.
✓ REUSABLE & DURABLE:  Buy it for life…built to last forever.  
✓ PET FRIENDLY: Do you have a diabetic dog or cat? Vial Safe fits all pet insulin brands purr-fectly.
✓ PATENTED DESIGN: We are the INNOVATORS never the imitators.
✓ GREAT GIFT IDEA: Give yourself or a diabetic you love the gift of safe and protected insulin vials. And not only is Vial Safe necessary and practical, its also a fashionable, fun and trendy diabetic accessory.
=======================
Legal Disclaimer: 
Vial Safe is intended to reduce the chance of damage to a glass vial that is properly inserted into it.  Use of Vial Safe does not guarantee that damage or destruction of a vial and resulting loss of its contents will not occur. Even when properly inserted, Vials in Vial Safe can be damaged and, in some cases, destroyed and the contents lost. By using Vial Safe you agree that you will hold harmless Vial Safe, LLC from and against any and all damages, including personal injury and death, resulting from the failure of Vial Safe to prevent damage to or destruction of a vial or its contents.
Cactus and Paw Prints
I love them! Where have you been all my life? 😍
Insulin holder
Nice product… Sorry I didn't but a couple sooner.. Makes it easy to differentiate between two types of insulin for my fur babies 😊
Didn't need two
Great product, fits the vial perfectly. Took a star away because I wasn't able to buy just one. That's all I needed because I only use one vial at a time.
Good protection but can't see low insulin level
These feel good in hand and fit well, and will provide protection. Tight fit when trying to store in the vial pockets of my usual carrying pouch and not sure I can carry two. My concern is that I like to see the insulin level when near the end of a vial so I can get the last drop without air. I'll remove or partially remove the vial safe cover when I reach that point, so should be ok.
Awesome!
These vial covers are PERFECT for my T, now I don't have to worry about accidentally dropping and breaking another vial😎
Love!
Love these! The color is adorable and it saves my sanity when my bottle accidentally falls.
Genius idea
Best idea ever to keep my insulin safe and worry free. The cute designs make them stylish and addicting to always want more.
Best idea ever!
I love these so much! The tie dye just make them so much cuter! I never worry about my open vial when using my vial safe protector.
Lifesaver!
I just got these vial protectors. I immediately put my lantus inside. And I am just so happy! Not only is my insulin super cute, but i had just put my insulin inside, and while showing it off to my husband I dropped it! Ah yikes! But it was protected. I am and forever will be a vial protector customer. And I will tell all my diabesties about vial protectors. Great job in making diabetes cute and fashionable! I love this so much! Thank you!
Ships within 24 hours.
Free standard domestic shipping on orders $19 or more.
$15 flat rate shipping for most international destinations.